Kusatsu Onsen Kiyoshigekan, Traditional Japanese Inn (ryokan) in Kusatsu, Gunma.
Kiyoshigekan is located in the center of Kusatsu Onsen, one of the most famous hot spring resorts in Japan. Guests can enjoy the 100% natural hot spring baths in a private and scenic setting.
The bath water is natural hot spring water sourced from the surrouding area, and is relaxing and good for one's health; even rumoured to cure diseases and ailments. This traditional ryokan inn has both indoor and outdoor baths, while all guestrooms are comfortable Japanese style rooms.
Meals are served in the dining hall in the main building and feature delicious Japanese seasonal food using traditional recipes and cooking methods. The late check-out time of 11:00 am allows guests enjoy a leisurely time on the day of their departure.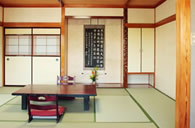 Traditional Japanese Rooms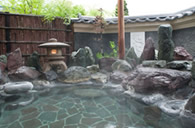 Outdoor Hot Spring Bath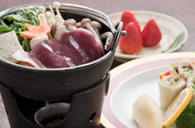 Seasonal Japanese Cuisine
Kusatsu Onsen Kiyoshigekan Information
Address
280-4 Kusatsu-machi, Agatsuma County, Gunma Prefecture
Hours
Check-in: 15:00 ~ 20:00
Check-out: by 11:00am
Credit Cards
All major cards accepted
Enjoy the soothing natural hot spring water