Pizza Carmine, Italian Pizzeria and Restaurant in Mejiro, Tokyo
Pizza Carmine, Italian Pizzeria and Restaurant in Mejiro, Tokyo
The quintessential friendly Italian neighborhood restaurant. Nestled in the quiet residential neighborhood of Mejiro, going to Pizza Carmine is more like visiting an Italian Aunt's house than a noisy restaurant and the effect is the same, people are destined to return with more family and larger groups of friends.

At any one time, the restaurant's large tables are usually adorned with a few of the many traditional Italian Pizzas, including Carmine's originals, that the restaurant specializes in. Carmine recommends the Pizza Ortolana which combines a Margherita base with Eggplants, Zucchini, Paprika, Mushroom and Artichokes - an Italian favorite with a lot of ingredients for only 1,600 Yen during dinner. Of course, no neighborhood Italian restaurant would be authentic with out offering Italian comfort food! Don't worry, a variety of Carmine's original pasta and an authentic Tuscan tasting course will fill in empty spaces on your table.
There are 5 Italian restaurants by Carmine in Tokyo, each with its own unique concept:
Carmine | Carmine Omotesando Stand | Carmine Edochiano | Pizza Carmine | Sorriso
Please click here to learn about Carmine Cozzolino Productions.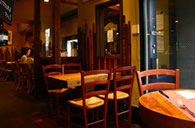 Fun, family setting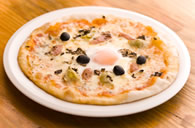 Pizza Ortolana!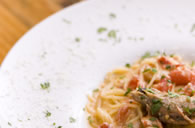 Spaghetti with Crabfish Tomato Cream
Pizza Carmine Information
Address
1F Yutaka-bldg. 3-12-23, Shimo-Ochiai, Shinjuku-ku Tokyo, 161-0033
Hours
Lunch: 11:30am - 14:30pm (L.O.), Dinner: 6:00pm - 10:00pm (L.O.)
Prices
URL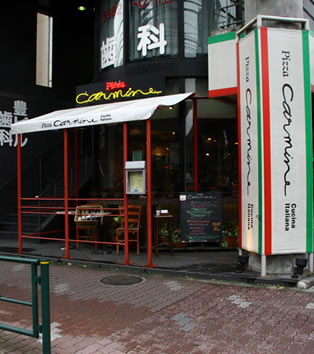 Entrance of Pizza Carmine