Articles on Japan, Links & Reviews

Food in Japan
Yakitori
Yakitori translates literally as "grilled chicken", and is a popular type of Japanese cuisine, traditionally enjoyed with beer and colleagues after a hard day at the office or with a group of friends when feeling in a slightly boisterous mood. The meat is usually chargrilled before being served on kushi (skewers) with a choice of either salt or tare sauce flavor. (A mixture of half and half is usually a good way to go for first timers).
The range of skewers available varies slightly from restaurant to restaurant, although the mainstays of negima (chicken and leek), tsukune (meatballs) or plain toriniku (chicken only) are generally most appealing to foreigners. For those of you feeling more adventurous, alternative options include but are not limited to liver, heart, intestines, gizzard, skin and cartilage! Other skewered dishes such as pork belly, beef tongue and various vegetables are also generally available.
Yakitori has a long history and has enjoyed booms during times of economic strife, such as in the Taisho Period and after World War 2. Struggling to make ends meet and faced with a shortage of meat, yakitori stalls used the leftovers from upper-class restaurant establishments, and thus utilized the whole animal to create the current all-encompassing variety of dishes.
Yakitori restaurants are easy to spot - they often have open frontages with smoke from the grills billowing out onto the street, and attract customers with the traditional red lanterns hanging outside. There are many great yakitori restaurants all over Japan, but some of the more notable Tokyo ones can be found under the train tracks between Yurakucho and Shimbashi, and down the back alleys near to Shinjuku station.
Glossary
Kushi
- skewer
Mirin
- A kind of rice wine similar to sake but with slightly lower alcohol content and higher sugar content. (A reasonable substitute is to mix sugar with sherry or sake.)
Soy Sauce (Shoyu)
- A fermented sauce made from soybeans, roasted grain, water and salt. Called shoyu in Japanese.
Tare
- A thick sauce made from soy-sauce, sake, sugar and mirin.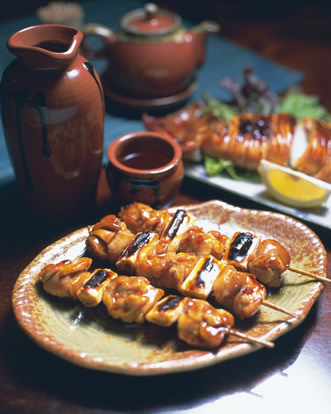 Yakitori
Photo provided by FOODEX JAPAN
Yakitori Recipe
(Difficulty Rating: 2 out of 5)
Ingredients (serves 4)

Tsukune (Meatballs)

250g Chicken Mince
1 Egg
1 tablespoon Flour
Diced Small Onion
Pinch of Sugar
Tablespoon of Soy Sauce

Negima (Chicken & Leek)

2 Chicken Thighs / Breasts
1 leek

Tare (Sauce)

1 table spoon Sugar
50 ml Sake
100 ml Soy-sauce
50 ml Mirin
Instructions

(Prepare Tsukune Meatballs)

Combine the mince and egg and mix well
Add the onion, soy-sauce & sugar, cover with flour and mix
Make the mince into balls about the size of golf-balls
Heat oil in a fry pan and cook until browned
Remove from heat and spike 3 balls per skewer

(Prepare Negima)

Cut chicken into square inch size pieces
Slice leek into 1-inch long pieces
Skewer the 3 pieces chicken and 2 leek (alternating) per skewer

(Prepare Tare)

Mix sake, soy-sauce, mirin and sugar in a bowl
Baste the tsukune and negima with the tare sauce (or smother with salt for alternate flavor)
Grill negima until chicken is cooked through (Chargrill for optimal flavor and taste)
Add tsukune to grill to heat it up
Serve and eat!