Fujimi Dental Clinic, English Speaking Dentist in the Heart of Ginza, Tokyo
Review of Fujimi Dental Clinic
Text by Andrea Beardsley Mori
When looking for ways to spend free time, a visit to the dentist is not the first thing that comes to mind. Associated with wince-inspiring drilling, awkward facial contortions, and painful procedures, a trip to the dentist is usually categorized on least favorite activities lists. Regardless of this, if you want to be eating apples at eighty, regular check-ups and cleanings are a mandatory part of life.
Dentist Hitomi Hayashi of Fujimi Dental Clinic aims to change the way people perceive and experience dental procedures. Trained overseas, Dr. Hayashi has been serving the foreign community in Tokyo for the past 6 years. She is one of 11 dentists on staff at Fujimi Dental Clinic. Established in 1985 by Dr. Yoshinobu Fujimi, the clinic, located in the heart of Ginza, provides a full range of dental treatments, including preventative, cosmetic, surgical, and orthodontic services. Fujimi Dental Clinic accepts Japanese national health insurance and international coverage, and will help patients fill out the insurance forms required for reimbursement.
Along with dental implant specialist Kiyotaka Umezu, a former assistant professor in Loma Linda University in California, and assistant dentist Divina Saito, Dr. Hayashi provides service in English to Fujimi Dental Clinic's foreign clientele. She decided to focus on the foreign community in Tokyo after hearing about the bad dental experiences in Japan of patients unable to communicate in Japanese. Dr. Hayashi, whose specialties are preventative, cosmetic, pediatric dentistry and orthodontics, says her top priority is to ensure that her patients keep their teeth healthy for the rest of their lives. But she also hopes to provide her patients with a positive, relaxing environment to ease their anxiety about dental treatments.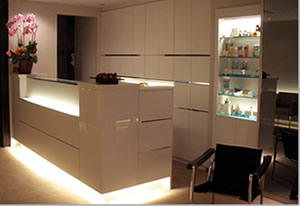 Dr. Hayashi welcomes patients of all ages and nationalities. Her clinic is equipped with the latest dental equipment to ensure optimum patient care and comfort. Most of her patients come in for regular 6-month cleanings and ceramic inlays/onlays, while home whitening kits and Professional Mechanical Tooth Cleaning, or PMTC, are her most popular non-essential treatments. PMTC, a selective plaque-removal service offered in addition to regular cleaning, is especially recommended for patients with substantial coffee and tobacco stains and with a moderate to heavy presence of tartar. The procedure includes the removal of tartar plaque, gum massage, and stain removal, using airflow technology. PMTC can increase the effectiveness of bleaching and can also provide patients with a sparkling smile before a speaking engagement, TV appearance, or first date. Dr. Hayashi likens PMTC to a facial for your teeth.
Despite my desire to remove all traces of my coffee addiction from my teeth, I was reluctant on my first visit to spend more time than the minimum requirement in the dentist's chair. Instead of going for the full PMTC treatment, I opted for a basic check-up and cleaning. Upon arriving for my Saturday afternoon appointment, I was greeted at the reception counter by Dr. Hayashi and two cheerful assistants. I was asked to fill out the standard background information form, provided in English, before being led to the treatment room.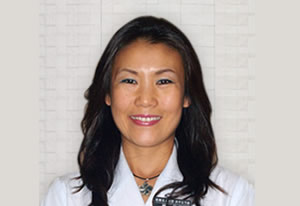 True to Dr. Hayashi's promise of a calming environment, the private treatment room was decorated in muted earth tones offset by white counters and equipment, and soft relaxation music was playing in the background. Aside from the minty aroma of toothpaste, it was more reminiscent of an esthetics salon than a dental clinic. The warm and friendly manner of assistant dentist Divina Saito immediately put me at ease.
After arranging me in the dentist's chair in the usual up-ended position, Dr. Saito began my treatment with a gentle but thorough inspection of my teeth. She informed me that I was cavity-free before lightheartedly reprimanding me for failing to floss regularly. Next came the cleaning, using an ultrasonic scaler, followed by flossing. Dr. Saito then performed two polishing procedures, the first for stain removal, the second to smooth the surfaces of my teeth. Between each procedure I was given the opportunity to rinse at a small sink that mechanically appeared beside my chair.
Before I knew it, I was given a final check and a clean bill of dental health. The entire experience was quick, painless, and, yes, even somewhat relaxing. Best of all was the comfort of being treated by qualified dentists with up-to-date skills in an environment that welcomed patient-dentist interaction and communication. Thanks to Drs. Hayashi and Saito, I have learned to consider my dental visits not as mandatory experiences to be endured, but as relaxing and rejuvenating facials for my teeth.
***** ***** ***** ***** *****
Fujimi Dental Clinic (03 3563 4022) is located in the heart of Ginza. They are open 10AM to 8PM, Monday through Friday, and 10AM to 6PM on Saturdays. Exceptions apply for national holidays so please call in advance to check.