EOK.jp News 2012

Oct 24, 2015 Exploring Kanazawa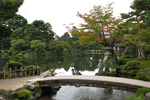 A short guide to some of the top sightseeing attractions in the beautiful city of Kanazawa, located in Ishikawa prefecture on the west coast of Japan. Of course Kenrokuen Gardens features prominently on the list. Discover more about Kanazawa here...

Aug 20, 2015 Yakitori Article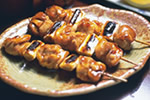 Yakitori translates literally as "grilled chicken", and is a popular type of Japanese cuisine, traditionally enjoyed with beer and colleagues after a hard day at the office or with a group of friends when feeling in a slightly boisterous mood. The meat is usually chargrilled before being served on kushi (skewers) with a choice of either salt or tare sauce flavor. Read more about yakitori and yakitori recipes...

Nov 26, 2014 Kinosaki Hot Springs
Kinosaki, with its 1,300 year history dating back to the Heian period, is a traditional town, ideal for relaxing and enjoying yourself in all four seasons. Kinosaki is famous for its invigorating hot springs, notably the 7 famous sotoyu (communal bathhouses). Discover more about the Kinosaki Hot Springs area...

Sep 12, 2014 Nagoya-Info
If you are in or around Nagoya, be sure to visit Nagoya-Info.com for all the latest event, restaurant and shopping information. They have also been kind enough to feature EOK.jp on their site too.

Sep 28, 2012 Kinosaki Kojinmari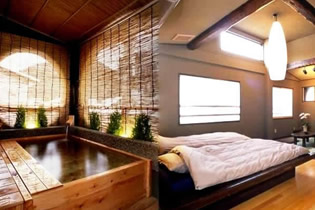 Kinosaki Kojinmari is a cozy and comfortable inn in the Kinosaki Onsen resort area, located just 5 mins walk from Kinosaki Onsen Station.
The inn has only 4 guest rooms but all of them boast unique and distinctive characteristics. Some rooms are in a more traditional Japanese style, while others feature beds in a modern and western style. All rooms have a private toilet and a wash basin.
Kojinmari means "compact & cozy" in Japanese, and guests are sure to experience a pleasant and comfortable stay along with friendly service and traditional Japanese hospitality. More...

Aug 01, 2012 Tokyo Jazz Festival 2012
Japan's largest Jazz Festival takes place Sept. 7th-9th at Tokyo International Forum and the Cotton Club. Tickets are going fast! On the bill this year are over 40 artists and bands including Ben E. King, Burt Bacharach, Yoichi Murata and many more!

Aug 01, 2012 Koenji Awaodori
August 25th-26th. Tokyo's largest Awaodori Festival is back again! 12,000 dancers will turn the streets of Koenji into a fun-filled festival of music and dance!

Jul 20, 2012 Seikiro Ryokan
Seikiro Ryokan is located in the Amanohashidate area of northern Kyoto Prefecture, one of the three most scenic spots in Japan. This traditional wooden ryokan offers a unique experience of life in Japan, and was designated a tangible cultural asset in 2010. More...

Jul 06, 2012 Kusatsu Onsen Kiyoshigekan
Located in the famous hot spring resort of Kusatsu in Gunma Prefecture, Kiyoshigekan offers traditional service, seasonal cuisine and amazing mountain views to compliment their 100% pure natural spring water baths! More...

Jul 06, 2012 Shin-Okubo Sekitei
Explore Tokyo and stay in comfort at this reasonably priced hotel located a mere 5 minutes walk from Okubo/Shin-Okubo! More...

May 23, 2012 Fireworks Festivals are coming soon!
From the beginning of July, one of Japan's most loved and often most awe inspiring festivals will begin all across the country. Enjoy night skies filled with dazzling displays as fireworks craftsmen show off the best of their art against some amazing backdrops!

May 23, 2012 Beer Gardens in Japan
The summer temperatures and humidity are on their way but Japan's many Beer Gardens will soon open to offer an measure of relief from the summer heat!

May 23, 2012 Summer Music Festivals 2012
Summer is music festival season in Japan. From massive, multi-day events like Fuji Rock or Summer Sonic to locally inspired music at Rock in Japan, Ryukyu Festival or Earth Celebration 2012 there is something for every music lover this summer!

Apr 19, 2012 Nikko Grand Spring Festival
May 17th-18th at Nikko. The main highligh on May 17th is the amazing event that is Yabusame mounted archery while May 18th sees about 1,000 participants in full samurai armour parade through Nikko to Toshogu Shrine.

Apr 19, 2012 Hammamatsu Festival
This May 3rd-5th, enjoy the annual kit-flying- and kite-fighting!- festival at the seaside in Hammamatsu, Shizouka. Also check-out the famous koinobori and mikoshi portable shrine parade!