GERONIMO Shot Bar, International Bar in Roppongi, Tokyo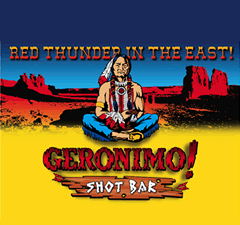 GERONIMO Shot Bar
One free drink up to 1,000 Yen! (First time only)
ドリンク1杯サービス(上限1000円)(初回のみ)
Print this page and present it to the shop before you order to get the discount.
このページを印刷し、注文する前に提示して下さい
Coupon is valid one time per person
クーポン券の御使用は一枚につき一名様一回限りとなります
Coupon may not be combined with other offers
他券併用不可
Access & Directions to GERONIMO Shot Bar
Train Access
Metro Hibiya Line, Toei-Oedo Line
› Check your train route, times & fares with the Jorudan "Train Route Finder"
Directions
Roppongi station: 1 min from Roppongi crossing exit
If you are standing near Almond the famous meeting point. Cross the main street (Ropp Crossing) and on the second floor of the building in front, you will see the Geronimo Shot Bar! sign. Go up to the second floor to have fun!
Contact Information to GERONIMO Shot Bar
2nd Fl. Yamamuro Bldg., 7-14-10, Roppongi, Minato-ku, Tokyo
Tel. 03-3478 7449