Cafe VAVA, "Pancakes & Royal Milk Tea Cafe", in Nihombashi, Tokyo
Review of Cafe VAVA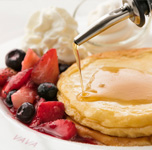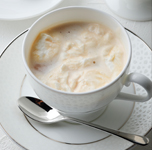 Located on the 3rd floor of the renowned Takashimaya S.C. building in Nihombashi, Cafe Vava is the perfect retreat from the hustle and bustle of the city, as well as from the crowds in the shopping mall itself. Upon entering you are greeted warmly by the friendly and professional staff, and offered a choice of table to suit your needs.
The interior is modern and well-lit, while there is plenty of greenery in the form of plants to help you forget you are in the middle of Tokyo. This means that it is the perfect venue for either chatting with friends, holding small business meetings, or working solo on one's computer.
Receiving the menu, I was spoilt for choice, as Cafe Vava offers an array of tempting dishes, from sumptuous pancakes and French toast, to healthy salads and imaginative pasta dishes. As I was there for brunch, I considered having the Montecristo French Toast or the Scrambled Eggs with Black Truffle. However, having heard that the pancakes are the signature dish, I decided on the Strawberries & Berries Pancake Set, which included a choice of coffee of tea.
The pancakes are made from 100% Japanese rice flour, which gives them a delectable texture and flavour. It has the added bonus of meaning they are gluten-free. Two thick pancakes are served on top of each other, and accompanied by fresh whipped cream, mascarpone, and a rich sauce containing strawberries and berries. There was also a tender slice of thick bacon, and each table is given a bottle of Canadian maple syrup to pour over their pancakes, allowing diners to adjust the sweetness according to their own preference.
The pancakes were marvellous; better than any I've experienced in various countries around the world. They have a soft, yet firm texture, and are filling enough that I didn't need to order any other additional food dishes. I'm sure the panackes would go equally well with coffee, but I ordered the Assam Tea, which made for a relaxing drink to recuperate the mind during a busy work day.
Looking at the menu, next time I'll be sure to try the Royal Milk Tea, and some of the delicious pastries too, which are all handmade on-site. Furthermore, observing the array of sumptuous looking dishes being served to other patrons, it is obvious that Cafe Vava needs to be visited several times in order to try out all the wonderful dishes on the menu. It is definitely worth stopping by if you are in Nihombashi and want a fine cafe-dining experience.
Cafe Vava is open everyday from 10:30 - 20:00.