Elio Locanda Italiana, Italian Restaurant in Kojimachi, Tokyo
Review of Elio Locanda Italiana
Text by Vincent Ventimiglia
Upon entering Elio's Locanda Italiana you are embraced like a friend and by the time you make it to the table and meet your server – a Locanda "Camerieri" – its like you have been adopted into their family. This is a place where I felt truly myself, and well, more Italian than I have felt in a while. However, as the Locanda quickly filled up it was evident that people don't hold their breath here so it is fair to assume that others shared my feeling. In fact, although it is a Southern Italian restaurant, it is a very universal restaurant. I attribute this to the Orsara family values, the multilingual and professional staff, and a whole lot of heart for service which ideally positions them to accommodate guests from all cultures. This makes Elio's Locanda perfect for executive dining, meeting friends for what I consider to be feasible higher-end dining, and definitely romantic dining. On this night all three groups with an even split between locals and those from the international community were communicating at ease in the cozy Italian Inn. This all made sense to me because while respecting boundaries is important, cultural or otherwise, it's when people cut through them when connections are made and it is here where differences just melt away. Obviously a unique venue, business leaders would do well to conduct business here.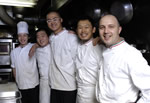 Locanda's cuisine is authentic which means tradition steeped in simplicity, ingredients of particular character and of maximum freshness, and flawless execution. Germano Orsara, Elio's brother and a renowned chef, ensures the later. All the vegetables that Germano's team uses for the dishes and milk that results in their homemade gelato are sourced from organic farmers. Later in the evening Elio was quick to convey a classical interpretation of sustainability when he said, "If you want to continue to source high quality material, which of course is what good food is dependent on, then these people (biological farmers) must be supported." The natural intensity of these dishes shined through at first bite and is ideal for the robust natural flavors that exemplify true Southern Italian food.
Our dining experience started off pleasantly with a genuinely kind smile from our server Yuki who had a true gift for service, striking a friendly relationship with us right away. It was a sophisticated mix of business and pleasure for him. And in no time at all a taste of tradition from the Orsara family was directly imported to our table. Elio's grandmother, herself a renowned Italian chef, always promptly served her guests bruscheta of the day with a glass of sparkling wine. This day we enjoyed the crisp toast spread with homemade ricotta cheese. It set the tone for many good conversations and primed our palates. The combination made us hungry by the time we finished and that is precisely when our first antipasta arrived brought out be Elio himself. A duet of wild rice salad with marinated shrimp and fine wild mushrooms topped with home-smoked swordfish carpaccio, the later was so delicate that it would make a Japanese kaiseki restaurant chef proud yet it was as traditional Calabrian as you can get. The dish spoke volumes for Elio's Locanda and so did Elio himself. He is simply a very likeable and people-oriented person whose conversation was warmly welcome (in fact, we wish he could have shared a glass of wine but he gives his personal attention to everyone). These dishes and our second antipasta of organic rolled eggplant and fresh scallops direct from the boat and very sweet from the quick searing they received – all married well with the Anfisia Bianco from Cantine Lavorata – a traditional Calabrian fresh, light, and spicy wine recommended by the sharp Yasuhiro Mikata who is one of the managers at the Locanda.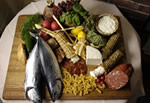 If you really want to experience the pasta culture of Southern Italy you must come here, as we were very impressed by the four types of fresh homemade pasta we sampled. Long spaghetti with a picante tomato sauce and a shot of ricotta exemplified how pepperocino in the hands of a master like Chef Germano Orsara willl transform a dish and never burn your tongue. Elio was proud to serve us another long pasta in fresh squid ink (a dish I had desperately missed since I was in Rome last). Our appreciation was only enhanced when he exclaimed, "a real restaurant should never have a menu. We have a long-term relationship with the fisherman whom we buy our fish direct from daily and today the sea yielded squid of rare quality so that is what he shipped to us and we used." Pappardelle in a duck ragu sauce was good but its neighbor on the plate, large tortellini filled with a cheese emulsion was delectable.
After hearing that all the fish was only out of the sea for 12 hours we went with fish dishes for our main course. Olives and capers in a fresh tomato sauce framed the snapper in Southern Italian style which was perfect with another one of Cantine Lavorata's white wines.
Dessert was good but even better was the pecorino cheese straight off the wheel. I enjoy many fine cheeses in Tokyo but it is rare to find a good Italian pecorino like this one – it is a cheese that is interesting to match with some of the older vintage whites (a chardonnay from Piedmont comes to mind) on the menu as well as many of the reds. I can vouch from a follow up visit that the wine list has good-value bottles as well as some more expensive wines but nothing astronomical and many perfectly matured bargains. This in conjunction with the practice of serving their wine in quality Burgundian glasses (as many fine wines should be) diminished any hesitation I might have for splurging on a finer bottle or two. And remember, this is a place where the majority of people are regulars and are greeted with kisses or sincere nods and handshakes so do make a reservation.
***** ***** ***** ***** *****
Elio Locanda Italiana
Tel:03-3239-6771
Lunch: 11:45 - 14:15 LO
Dinner: 17:45 - 22:15 LO