Seamon Nihonbashi, Sushi Restaurant (Edomae) in Nihonbashi, Tokyo
Review of Seamon Nihonbashi
Text by Deryk Bliss
Sushi is probably Japan's most influential contribution to world cuisine. Renowned worldwide for it's high quality and immense variety, sushi attracts visitors to Tokyo, eager to experience this signature dish prepared by some of its greatest chefs, and mix with the Japanese locals for whom sushi is an integral part of Japanese dining culture. Attention to detail and tradition are key hallmarks of the art of sushi. At the best restaurants, apprentices famously spend years studying under the mentorship of a master chef before even being allowed to prepare the vinegar-rice which accompanies the sushi. Once the apprentice chef is able to prepare the rice to his master's exacting standards is he then allowed to progress further along the path, after many more years of training, to becoming a chef in his own right.
Sushi can, however, be slightly intimidating to visitors and first-time diners. Rules of etiquette, cultural protocols and the menu itself can prove quite challenging. Fortunately for diners in Tokyo, there is Seamon, part of the Kimihiko Araya Productions group of pioneering restaurants.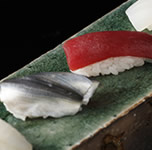 Seamon Nihonbashi, located in the stylish COREDO Muromachi Building and directly connected by Mitsukoshimae Subway Station, joins sister restaurant Seamon Ginza as a much-loved landmark on the Tokyo dining scene. Many of the key trademarks of Seamon Ginza are replicated at Seamon nihonbashi; the highest quality seafood selected daily from the Tsukiji market, the attentive but unobtrusive staff, the wide variety of course or a la carte menu options for diners and the ever-helpful, alphabetically-organized "Seamon Sushi Dictionary" for customers worried about their Japanese ability.
Yet, Seamon nihonbashi has an identity all it's own. Set in a more traditional atmosphere of polished pine counters, earthen-dinnerware and tatami mats of the privated rooms, the bright, open feeling at Seamon nihonbashi creates a relaxing atmosphere where diners can feel free to chat to the amiable chefs and servers while enjoying a sumptuous meal of Edomae-sushi.
As in any great sushi restaurant, however, the best seats at Seamon nihonbashi are at the counter. Greeted warmly by master chef Masayuki Kifuku, we settled ourselves into comfortable wooden chairs and perused the extensive menu.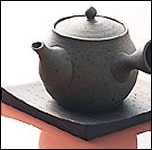 Another unique aspect of Seamon nihonbashi is to be found in it's beverage offerings. While the standard offerings were present, what really stood out was the sizable wine list. "Wine pairing with sushi is one of our main concepts" explained manager (and accredited sommelier) Hiroaki Ohe, "we wanted to explore something unique that hadn't really been done before with sushi dining."
To that end, customers will find a comprehensive wine list with an impressive variety of whites - as you'd expect - such as Napa Valley Chardonnays or Chablis, as well as selected reds and champagnes and, most interestingly, rare Japanese wines. Carefully selected shochu from Kyushu, premium whiskeys and of course nihonshu (sake) such as Seamon's own signature sake meant we were literally spoiled for choice. Fortunately, Ohe-san and the excellent floor staff were always on hand to help out with recommendations.
Choosing which lunch course was somewhat simpler. Deciding wisely to leave it to the professionals, we selected the Chef's Choice Lunch Course and settled back to see what Kifuku-san had in store for us.
First, the appetizers. Hokkaido snow crab served with a jellied-vinegar sauce. Rich, light and delicious. Then a small, refreshing dish of fresh konbu kelp and grated ginger before an amazing Tasmanian Oyster served on crushed ice.
We were then presented with small bowls of cubed ginger to refresh the palate between dishes.
What followed was a truly spectacular main meal of 10 different nigiri-zushi offerings (as well as a few surprises), each helpfully introduced by Chef Kifuku-san. Unlike other sushi restaurants, Seamon nihonbashi has no set menu selections. If a certain item is not available or the available product is not up to Kifuku-san's extremely exacting standards at Tsukiji that morning, then it doesn't feature on the menu that day. This not only means diners are served with only the highest quality seafood and fish, but that each visit to Seamon nihonbashi is unique from the last.
One of the most enjoyable aspects of sitting at the counter at Seamon nihonbashi is being able to observe your meal being prepared right before you. Watching Kifuku-san's smooth, almost effortless movements as he creates perfectly formed and seasoned piece of sushi after piece was to get a glimpse into a centuries old culinary tradition and he was more than happy to answer our questions or share insights into the culture of sushi gained from a lifetime of experiences.
We were started off with an incredible abalone and mushroom, followed by fresh shrimp with a black-seaweed glaze and a first for us, a light soup of white-fish, matsutake mushrooms and ginko nuts served in a traditional Japanese teapot with a small bowl on top. We were helpfully guided to first drink the aromatic stock before eating the main ingredients, creating a wonderful variation of flavours and textures. This was soon followed by an delightful array of dishes including fresh mackerel, baby bluefin tuna and the best ika (squid) and unagi (eel) we had both ever had the pleasure to try. It was only near the end of the meal, when the final dish arrived a flavourful sea-cucumber nori roll, that we realized we had not once used any shoyu soy sauce, so expertly were the flavors of each piece balanced that they required nothing further, just to be enjoyed as served.
The meal ended with miso soup, Japanese tea served in earthenware mugs and a dessert of sesame jelly. A bit reluctant to leave, we thanked Ohe-san and Kifuku-san for the wonderful meal and exited out into the bustling streets of nihonbashi. This was our first visit to Seamon nihonbashi but we will definitely be back soon!
***** ***** ***** ***** *****
Seamon is open everyday (03-3243-0050). Reservations are recommended.