Ginza Kazan, Specialty Seafood Restaurant in Ginza, Tokyo
Review of Ginza Kazan
Text by Vincent Ventimiglia
Part I: Gravitating to Kazan
I had a full day in Ginza ahead of me and I could not wait to start – I was going to eat lunch in this most spectacular neighborhood before meeting clients and then unwind at Kazan – a restaurant I had heard stories of splendid seafood.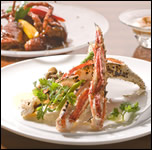 Walking down the street I was stunned by the realization that the doors of my lunch destination were closed forever! I collected myself remembering that this is Ginza, restaurants lacking an element that the sophisticated clientele demands is weeded out in no time.
Wandering aimlessly for a new spot I found myself naturally gravitating towards a swarm of excited people that looked confident about where they were going. When I closed in on them I found myself in front of Kazan, a coincidental surprise since I must have walked by before but clearly it was the kind of place you were supposed to know where it was in order to find it. Part of me questioned the wisdom of eating two meals at the same place in the same day, but I was instinctively drawn by the energy and reasonable lunch menu elegantly perched outside the door.
I walked in and found it packed with fashionable diners and exhibiting an overall composed yet high-energy atmosphere. The host greeted me graciously in English and asked the right questions to accommodate my schedule and ensure that I was interested in the courses that could be served in that amount of time before seating me. I ordered the pasta lunch course that came with healthy hors d'oeuvres, salad, dessert, and tea – all of which were delicious. After a short time it was apparent that the restaurant is a "connoisseur", dignified and stressing distinctiveness and quality – characteristics that were nicely balanced by the staff's personal and committed attention. Although I was completely satisfied with lunch, this short taste of what was to come left me hungry for dinner!
Part II: Returning and Witnessing A Golden Formula
I headed back to Kazan for dinner curious if the owner, Mr. Kimhiko Araya, had indeed concocted a formula for the superb evening dining out in Ginza and therefore distinguishing Kazan from other Ginza restaurants that despite offering good quality seem to come and go.
I rendezvoused with my companion and entered on a Tuesday evening at 5:30 PM to a smiling staff that greeted me by my name. Our professionally dressed server's English was basic but we had no problem communicating and she quickly returned with our drink order of Kazan's own draft beer for connoisseurs. The beer tasted like refined Suntory Premium Malt – soft on the palette, almost like a light Belgian beer that maintained its natural wholesomeness but had shed just enough of its classic strong character to better pair with sensitively prepared cuisine.
By the time we ordered it was close to 6 PM and the restaurant was packed again with optimistic diners. It was also the last time we paid attention to our surroundings because the artistic course meal that began to arrive was sparking and captured our undivided attention.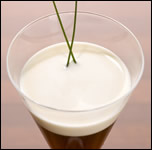 We began with the Cold Consommé Gelee Cocktail. Deep amber substance with a shot of light foam, it was exotic and refreshing and appropriately made my mouth water. This was followed by our favorite dish of the night, a platter of Tasmanian"Cats Eye" Oysters direct from Mr. Araya's seafood trading company (Godak Marketing). Forget the chopsticks and silverware as they may influence the taste of these jewels and do as we did; sprinkle a little lemon on them, pick them up in the half shell and let them glide into your mouth. My companion gestured and said, "I usually never pump my fist but that was incredible. There's a story in those Oysters!"
Next, a plate with four indentations was filled with nicely contrasting hors d'oeuvres. The star was again Mr. Araya's own produce, carpaccio of Godak's award winning New Caledonian Angel Prawn. It was so fresh that it allowed us to appreciate the cuisine's subtle virtues such as its al dente texture that after biting into became creamy and melted in the mouth. Next came piping hot seared (almost raw) scallops with various mushrooms tossed with sun-dried tomatoes in a balsamic-cherry vinegar sauce. The sweetness of the tomato and sauce worked well to flavor the scallops and the mushrooms deepened the overall taste profile.
By this point we were impressed by the quality but when the staff brought out what was the biggest fried prawn we had both ever seen (and the best I had ever eaten) we also understood one does not leave here hungry. The sixth course was stir-fried crab with a light chili sauce and some potent spices I couldn't put my finger on. Subtle and spicy, it was magnificent paired alongside a glass of the white house wine, a Sauvignon Blanc from no other than Marlborough New Zealand. It was a newer vintage so you could enjoy the freshness of what is a racy, mineral-infused wine good for seafood but exhibiting varietal character such as gooseberry that complimented the spiciness of the crab.
Just to make sure we were full, expertly prepared pasta arrived and then was followed by assorted desserts that made me wish I had brought my camera. After these eight courses we sipped Kazan's own blended "healthy tea" which was the perfect end to the three-hour feast – and a superb dining experience in Ginza!
Part III: Kazan is the place to be in Ginza so make a reservation!!
When we left the restaurant it was still full and I was certain that success breeds success in the restaurant business as it does everywhere else. Kazan offers superb quality and is very reasonable considering its location and the connoisseur approach melded with a personal touch making it a Ginza institution.
***** ***** ***** ***** *****
Ginza Kazan (03-3562-8050) is located in the heart of Ginza. Reservations are recommended.