Kaga-Hakusan Tourism, Hot Springs and Sightseeing around Kaga and Hakusan in Ishikawa Prefecture
Onsen Hot Springs in Kaga-Hakusan, Ishikawa Prefecture
The Kaga-Hakusan area of Ishikawa prefecture encompasses several popular and well-known hot spring resorts. Refresh your body and soul by taking advantage of the healing properties of the natural spring water, while enjoy the spectacular scenery of the surrounding region. You may relax in the steam filled atmosphere of the indoor baths or combine a warm soak with views of the sea / mountains in the outdoor baths. Please enjoy this most traditional Japanese form of recuperation at Kaga-Hakusan!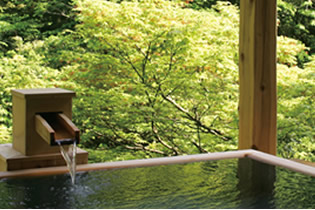 Enjoy hot springs and beautiful nature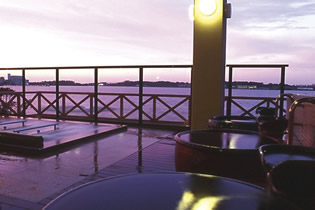 Hot springs and the sea at Katayamazu Onsen
Onsen Hot Springs in Kaga-Hakusan, Ishikawa Prefecture
Yamanaka Onsen is a hot spring town nestled in the mountains, where the traditional culture of Yamanaka lacquerware once prospered. Running through the center of the beautiful green Kakusenkei valley is the Daishoji River, while many Japanese-style hotels with beautiful views are built along the banks of the river.
Yamashiro Onsen is in the area referred to as the "home of Kutaniyaki". The downtown area, "Yu no Gawa," has retained the view of the traditional hot springs. The gushing water is nicknamed "water for longevity."
Katayamazu Onsen offers breath-taking views of the peaks of the Hakusan mountain range over Lake Shibayamagata. It is said that the lake changes color seven times a day! The many open-air baths continue to attract tourists and locals alike.
Awazu Onsen is an historical hot springs resort which opened 1,300 years ago and contains many quiet inns scattered throughout the mountains. Each inn has its own hot spring that claims to make the skin soft and healthy.
Tatsunokuchi Onsen is located on the hill to the south of the Tedori River. In 2009, Tatsunokuchi Onsen Soyu Satoyama no Yu (a hot springs facility) opened. There are many places for leisure activities in the area popular with families.
Hakusan Ichirino Onsen is located at the foot of Mt. Haku (Hakusan). The neighboring Hakusan Ichirino Onsen Ski Area is a good place for winter sports.
Chugu Onsen boasts a 1,300-year history and the spring water is famous for its healing properties - bathing in it is supposed to make the skin soft and smooth, while drinking the water is also rumored to be good for the health.
Shiramine Onsen opened in 1978, upstream of the Tedori River in the old Shiramine village, the farthest into the mountains of the hot spring towns at the foot of Mt. Haku (Hakusan). The water is referred to as "silky skin water," because a bath in this hot springs is said to make the skin as smooth as silk.
More information on the onsens of Kaga-Hakusan can be found here.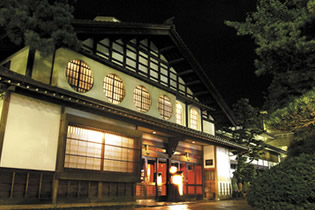 Awazu Onsen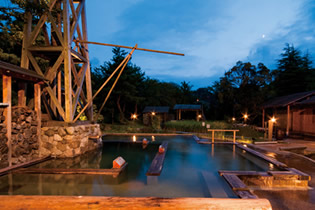 Tatsunokuchi Onsen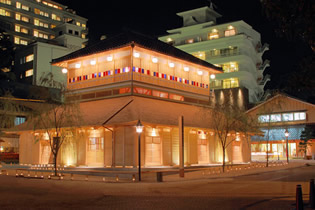 Yamashiro Onsen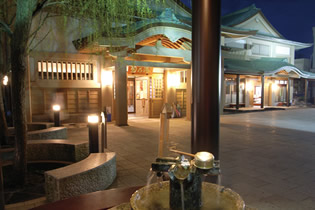 Yamanaka Onsen