Articles on Japan, Links & Reviews

Lists in Japan
Anime and Manga in Japan - Top locations in Tokyo
Manga is the ubiquitous Japanese comic book, covering a wide range of characters and stories in a flurry of color and action. Anime are the frenetic, occasionally hyperactive, renderings of manga on screen. Both art forms have recently been attracting a swelling international audience.
Tokyo has often served as the source of inspiration for the stories, visuals and backgrounds and Anime and manga fans can enjoy seeing the actual sites and cityscapes that global audiences find so compelling. And no anime / manga inspired tour of Tokyo should begin without first heading to the hub of Japanese pop culture: Akihabara.

Amongst the throngs decked out in costumes of their favourite characters, visitors can find a wide variety of shops selling new, used and rare collectibles, films and books, as well as those aforementioned costumes. There are even themed cafes and restaurants around too.
We recommend checking out Akihabara's Tokyo Anime Center. Visitors are welcomed free of charge and invited to tour the galleries and displays. Of particular interest to some fans may be the "Afureco Experience". A 60-90 minute post-recording event held on weekends and National Holidays, Afureco Experience tours are open to the public on a first come, first served basis. Please note that groups up to 5 are fine and bookings are only accepted from 11:45 on the day. Keep up to date on the latest events at their website:
http://www.animecenter.jp/eng/index.html
Tokyo's Anime and Manga Top Locations
One of Tokyo's better-kept pop-culture secrets lies beneath the feet of every passenger at Tokyo Station! Located in Tokyo Station's underground shopping area, Tokyo Character Street features shops dedicated to manga and anime goods as well as pop culture icons like Ultraman and Hello Kitty.
http://web-japan.org/trends/08_culture/pop090227.html
Official Site:
http://www.tokyoeki-1bangai.co.jp/feature/characterSt/
Just a few minutes west by train from Shinjuku lies Nakano and Nakano's Broadway Shotengai Shopping Street. Located directly across from the North Exit, Broadway has been drawing serious fans for years. Shops regularly feature rare finds and vintage studio goods that can be difficult to come across elsewhere for such favourites as Dragon Ball, Gundam and Macross.
http://www.bwy.jp/nakano_bloadway/
Meanwhile, North Tokyo lays claim to the TOEI Animation Gallery. The home of famous titles such as Dragon Ball, Sailor Moon and One Piece, allows visitors to tour through the rich history of Japanese anime stretching back to the mid 1950s.
http://www.toei-anim.co.jp/tag/03.html (Japanese)
One of the most recent global phenomena was Pokémon, or Pocket Monsters. Produced by Tokyo native Tajiri Satoshi, Pokémon now has its own shopping and souvenir center in Hamamatsucho. http://www.pokemon.co.jp/pokecen/tokyo.html
An important part of the spread of manga and anime has been through the endeavor of its most talented artists and producers. However, works by amateur or non-professional artists also play a significant role. To this end, the Komic Market serves as a dynamic venue for these contributors to exchange ideas or present their original images.
http://www.comiket.co.jp/info-a/TAFO/C75TAFO/cmkfor.html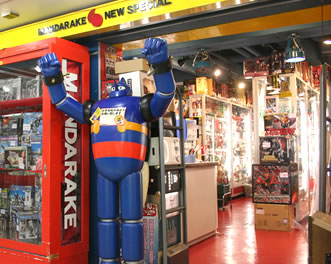 Nakano Broadway's Mandrake Shop

The spread of Japanese Pop Culture:
• Hayao Miyazaki became Japan's first Academy Award winner for Best Animated Film with Spirited Away and is arguably at the forefront of Japanese pop-culture promotion at this time.

• Tajiri Satoshi created the international megahit Pokémon which in turn spawned TV series, games and of course hit films:
Bulbapedia Article

• Leiji Matsumoto is as renowned for his Space Opera animation series as for his groundbreaking ship design Himiko now to be seen plying the waters of Tokyo as a sightseeing vehicle as well as a futuristic bar and restaurant.

• However, perhaps the most important figure in the expansion of Japanese pop culture to global audience was the late Tezuka Osamu. Often simply referred to as the "God of Manga", he is best known for the Astro Boy anime series, which many credit as the first to gain serious notice with overseas audiences. Astro Boy was born in Takadanobaba and a visitor to the JR station will note the large groups of fans recording the theme from the TV series on the platform as it signals the doors will close.