Articles on Japan, Links & Reviews
Seasons in Japan
Cherry Blossom Season in Tokyo, Japan - Tokyo Hanami Spots
Tokyo Cherry Blossom Season - The History | Tokyo Hanami Spots | Spring Dining Out
In Tokyo, there are obviously 100s of places to go sakura viewing or have a hanami party but be warned - with few exceptions these places will be busy! It is recommended that you get there as early as you can manage it to reserve your spot. Try not to miss out on seasonal treats like sakuramochi or the varieties of distinct sakura liqueurs available. Warm clothes are still a pretty good idea and as tempting as it might be, please leave the karaoke machine at home. Enjoy!
Ueno Park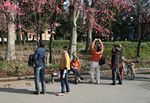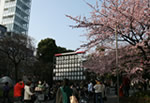 One of the busiest at this time of year and easily the liveliest! 1000 trees or more are said to be in and around this park which is also well-known for its night hanami as well!
Ueno Park Access (map)
1-min walk from JR Ueno Station (Yamanote, Keihin Tohoku) & Keisei Ueno Station & Ueno Station (Ginza & Hibiya Lines).
Yoyogi Park
Located near Harajuku station, this park is immensely popular if only for its sheer size and 100s of sakura trees. Expect to see some very elaborate hanami party set-ups.
Yoyogi Park Access (map)
5-min walk from Meiji-jingumae Station (Chiyoda Line), and JR Harajuku Station (Yamanote Line).
Inokashira Park
Reputed to be one of the first parks for the public in Tokyo, Inokashira Park boasts nearly 100 sakura trees of its own and with its scenic lake and famous shrine, expect photographers to be out in force with hanami partygoers at this popular park in West Tokyo.
Inokashira Park Access (map)
5-min walk from Kichijoji Station (Chuoh, Sobu, Tozai & Keio Inokashira Lines) .
Shinjuku Gyoen Park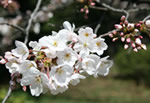 This oasis of calm is a beautiful spot in the middle of bustling Shinjuku. Quite a feat in a city that sees more than 3 million pass through its station gates every day. The entrance fee and rules on food, drink and noise help make Shinjuku Gyoen Park one of the better places for a stroll in Tokyo.
Shinjuku Gyoen (map)
Shinjuku Gate - 10-min walk from Shinjuku Station (JR Lines, Keio, Odakyu, Seibu Shinjuku Lines). 5-min walk from Shinjuku Gyoen Mae Station (Marunouchi Line). 5-min walk from Shinjuku San Chome Station (Shinjuku Line)

Sendagaya Gate - 5-min walk from JR Sendagaya Station (Sobu Line). 5-min walk from Kokuritsu Kyogijyo Station (Oedo Line).

Okido Gate - 5-min walk from Shinjuku Gyoen Mae Station (Marunouchi Line)
Yasukuni Shrine
This most well-known of shrines in Tokyo is, interestingly, home to the actual trees from which sakura forecasts are made, you'll also find some fine yatai stands to enjoy while viewing the many blossoms.
Yasukuni Shrine (map)
10-min walk from JR Ichigaya and JR Iidabashi Stations (Sobu and Chuo Lines).
5-min walk from Kudanshita Station (Tozai, Hanzomon, & Toei Shinjuku Lines)
Local Favourites
Meguro River Walk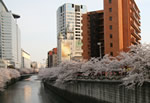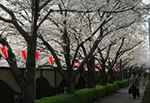 One of the most photogenic walks you're likely to encounter during this, or any season, in Tokyo. Stroll along the riverbank past bridges, parks, playgrounds and temples while taking in the approximately 800 sakura overhanging the stream below you or the illuminated blossoms during the evening.
Ikejiri-Ohashi station on the Tokyu Shin-Tamagawa line, one stop from Shibuya. A right turn out of the east exit will lead you to the south riverbank.
Aoyama Dori leading to Aoyama Cemetery
One of many sakura-dori or cherry-blossom avenues, the trees form a tunnel of white and pink during the season for you to enjoy while strolling to this famous cemetery. Worth the trip if for nothing else than to enjoy a hanami picnic around the area- giving new weight to the expression "Dead bodies are buried under the cherry trees! (or Sakura no ki no shita ni wa shitai ga umatte iru!)"
Aoyama Cemetery Access
7-min walk from Gaien Station (Ginza Line).
10-min walk from Nogizaka Station (Chiyoda Line).
10-min walk from Aoyama 1-chome Station (Hanzomon Line or Oedo Line)
Mt. Takao and Vicinity
Mt. Takao is a lovely place for a day out anyway but combine that with sakura trees, great views over Kanto and occasional view of Mt. Fuji and you can't miss. Be sure to check out the Tama Forest Science Centre in Takao City which features many of the over 250 varieties of the cherry-blossom trees found in Japan.
Mt. Takao Access
JR Takao Station (Chuoh Line)
Takaosan Station (Keio Line)
Omiya Koen Park
One of Saitama's biggest urban parks, the walk through the park sees you almost completely encompassed by a rooftop formed by the 1,200 cherry-blossom trees. Late closing hours, illuminated sakura trees at night and delicious yatai stands make for a great day out.
Omiya Koen Park Access
JR Omiya Station
Tobu Line Omiya Koen Station
Zenpukuji Park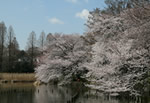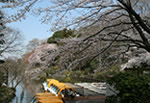 Certainly one of the better kept secrets, this Suginami City Park boasts the odd picnic table, a large pond (with rowboats available) some eccentric wildlife and a spectacular setting for a hanami party. The Park's strict rules on noise and party size makes this an ideal location for a more low-key hanami get together.
Zenpukuji Park (map)
20-min walk from JR Nishi Ogikubo Station (Sobu, Chuoh & Tozai Lines).
5-min walk from Zenpukuji Bus Stop (Kanto Bus or Seibu Bus for Kamishakujii Station Bus Stop)
Next Article: Popular Tokyo Spring Dining Locations
Cherry Blossom Tours
Looking to make the most of the cherry blossom season?
Here are some tours that may interest you:
Tokyo Sakura Mecca Tour, Western Tokyo Sakura Tour, Yokohama Sakura Tour, Sakura Eco River Cruise (Tokyo), Funaoka Sakura & Sendai Tour, Kyoto Sakura Picnic Tour (Kyoto), Kyoto Sakura Picnic Tour (Tokyo), Northern Japan Sakura & Onsen Tour