atelier MARCEL, Overseas-Experienced Hair Salon in Shibuya, Tokyo
Review of atelier MARCEL
Text by John Rayner
Almost all foreigners who have lived in Japan for a while have had some kind of interesting experience at the hairdressers, whether it be over-layering for the girls or unannounced shaving of the eyebrows and ears for the guys. Having lived in the countryside for most of my time in Japan, it was therefore somewhat of a first for me to visit a barber's shop in Marcel where the staff could understand the style I was looking for in English, instead of the usual combo of gestures and my broken Japanese.
History
Marcel hair salon is very much a family run business, having been founded by current owner Kaoru Okada's father about 60 years ago. Okada-san himself had a stint in London to study hair-dressing at the Vidal Sassoon Academy, as his son Yusuke and 2 other members of staff have subsequently done. Okada-san said the main benefit of studying in England was that he could study more about creativity and trends as well as how to perform various cutting techniques using a wide range of scissors. On his return to Japan he took over the management of Marcel and is now applying those techniques in Tokyo.
Okada-san worked on the Japanese TV show Teishu Kaizou Keikaku ("A complete make-over for your husband") for 7 years so his salon is already very popular and well-known by most Japanese. Now he wants to attract more foreign customers, a keenness well demonstrated by the fact that at every pre-work and post-work meeting all members of staff have to say at least 5 phrases in English to help them boost their level and retain what they've learnt.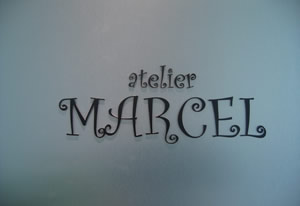 The Visit
Walking up the hill from Shibuya station, Marcel is easily recognizable by the red, blue and white spiral ringed signboard on the pavement outside. Designed by Okada himself, the sign is one of a kind in the world. Upon entering, Mr. Okada greeted me with a warm smile as he took my coat and bag. One thing that stands out is the friendliness of the staff, several of whom greeted me with a cheery "hello". The equipment is all modern and comfortable, and the staff provide you with just the right amount of care and attention, without ever overdoing it.
Okada-san, like all good stylists, managed to keep up his good humored conversation whilst never taking his eye off the job, helping me to feel relaxed and at ease - a rare condition for a gaijin in a Japanese hair salon. The cut was done diligently and attentively: my thick hair carefully thinned out in the right places, and regular checks with the mirror to make sure everything was taking shape the way I had asked.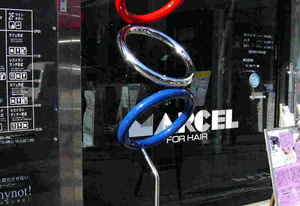 After a final wash and check, came the part I always look forward to; the scalp massage. Having never received that kind of service in England, it is yet another demonstration of the exceptional level of service people strive to provide here. The massage at Marcel was exceptionally good, encompassing a wider variety of tataki (Japanese massage technique) than I had experienced before. My hair and mind thus thoroughly refreshed, all that was left was to apply the gel - the part where everything often goes pear shaped for me at Japanese hairdressers. Not so at Marcel, where my hoped for look was achieved at the first attempt. For once I didn't have to dive into the nearest restroom to fix up my hair on the way home; a pleasant change and a pleasant experience.
Service
Okada-san says that the staff pay special attention to customers needs in order to help them get the look that they really want and customize their own styles and techniques in order to achieve this. They also apply a variety of products to deal with different kinds of hair problems - treatments for damaged/ oily hair and so on. They currently have 6 stylists on hand, although Okada-san or his son Yusuke usually serve the English speaking clientele. Marcel hair salon caters to a wide range of customers, but their specialty lies in smart, trendy cuts for businessmen.
Future
In a couple of months Okada-san hopes to open an upstairs section where it will be possible for him to entertain customers at his piano (he has been playing the piano for many years, and is especially adept at jazz). He also has plans to make the salon more accessible for disabled people and hopes to attract youngsters and their families from the local international school. It's this kind of care and attention to detail that makes Marcel stand out amongst the numerous hair-salons in Shibuya.
***** ***** ***** ***** *****
atelier MARCEL (03-6380-5270) is located in Shibuya, Tokyo and they are open everyday except Sunday from 10:00 – 19:30.