MASQ, Exclusive Bar and Restaurant in Ginza, Tokyo
Review of MASQ
Text by G.I. Chavez
Bar MASQ is a little hard to find -- between Miyuki and Harumi streets, around the corner from Nissan – and this can be intimidating for first-timers. But fear not. It is intended to be this way. Part of what makes a sanctuary is the feeling of being secluded and Masq makes every effort to take its customers into a world completely its own.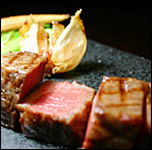 On the street, a small sign next to a narrow door tells you that you're in the right place. Enter and come down the lighted stairs and into Masq, where everything is focused on providing you with a remarkable experience.
The dark brown wood interior with burgundy-shaded lights is modern Japanese with a little Ginza noir added. You think to yourself that this is the kind of place where you expect to see famous people. Don't sweat it; you're welcome here, too. Pass booths of dark glass and ease into the leather sofas of the open area. You'll still feel hidden, enclosed in the semi-darkness, while the food and wine – the stars of the evening -- are spotlighted on your table.
Suddenly the outside world seems distant, if not entirely forgotten. This is a place, for slow -- very slow -- dining.
In Ginza where detailed quality is a given, the only question is to what lengths an establishment has gone to provide you with an exquisite experience. For Masq, the answer is quite far: One of four restaurants and bars created by Kimihiko Araya, it enjoys a worldwide network bringing the best to your table, including oysters from Tasmania, prawns from New Caledonia.
The same is true for the wine list, which runs from the fine to the extraordinary with several stops in between, all world class and noteworthy. You settle for the respected Chateau Franc Guadet 00, a good companion, red and round. Hinting of fruit and oak, it has enough strength to stand on its own and provide a bass line as you riff ala carte, focusing on the red meat that distinguishes Masq – sauteed foi gras (with contrasting mushrooms, strawberries and figs) and Tasmanian roasted lamb, on the bone and wrapped in potato. You don't need a knife for this. Just nudge the lamb and it yields.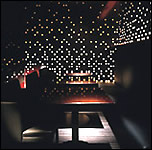 Masq also prides itself in its fruit-based cocktails, a house draft and stout, as well as a satisfying offering of single and blended whiskies. This is a good thing to know because it allows you to decide how to come here whether it is for dinner or as the second or third round of an evening. (This is Ginza, after all, and you shouldn't go home early. Nobody does.)
Now relax, live in the moment, get into the conversation, and listen to soft acid jazz, Arab house or maybe L.L. Cool J. The music makes the message clear; you are here to enjoy a dining experience without regard to borders or boundaries. Forget about time. The only chimes you'll hear are those of crystal, china and silver.
The waitress, wearing a wine-red shirt and dark vest, brings the decanter to your table, smiles and jokes with you as she pours. You have another taste from the plate; another sip from the glass. By now, you're feeling too good; maybe even a little guilty. Hang in there, the moment will pass and you'll soon feel that you deserve this.
Now you know what Masq means when it says that it is a place you won't readily share with just anyone. You've found your Ginza hideaway. Enjoy it and guard it selfishly.
***** ***** ***** ***** *****
MASQ (03-3575-5161) is located in the heart of Ginza.