Riva degli Etruschi, Italian Restaurant & Enoteca in Omotesando, Tokyo
Review of Riva degli Etruschi
Text by Vincent Ventimiglia
Under the Tuscan Sun in the Land of the Rising Sun
Why do Italians living in gastronomic sanctuaries like Florence and Siena gladly collect their friends and drive two hours into the countryside to eat dinner? While it may be a pleasant drive, the answer is that villa-style restaurants offer unsurpassed Italian dining and it is difficult to find these impressive structures outside of the countryside. They combine an expanded sense of space with Noble simplicity that are unique to these larger structures, and star chefs are drawn by their attributes. This is where you can linger for hours upon hours to the sound of a fountain in a courtyard, sipping wine from what is always an extensive wine list, and find course meals that will accommodate any span of time.
Guess what? This experience that is so valued by Italians but so difficult to access surprisingly awaits gourmets in the Tokyo metro. More precisely, at Riva degli Etruschi in Omotesando, located right across from the popular Italian language and cultural center Bell'Italia.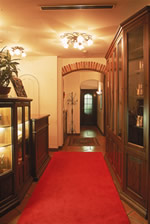 Gateway to the Tuscan Countryside
In a city where I find it sometimes difficult to fit through a door with my laptop pack on my back, two of me side-by-side could fit through Etruschi's entrance. At Etruschi, doors are more like gates that transport you to open spaces that allow you to be at ease. The high ceiling and fine wood accented by a rich red runner on the floor gave a sense of Noble simplicity, while an Etruscan arch and the staff's warm greeting asserted its Italian footprint. My dining partner and I were then led through more elegant archways, past spacious dining areas where frescoes and fresh lilies (the symbol of Florence) embellished the walls and into a glass-enclosed atrium where our table awaited close to a stone fountain that would peacefully serenade us the rest of the night.
Menu di degustazione vino, per favore!
Recognizing that this is not the time to think about time, we selected the full course wine dinner. After all, this is not an escape – this is really living, so seize the opportunity as long as you can! Consisting of seven dishes expertly paired with wine, the wine dinner is a good value and the perfect choice when you want to keep things luxurious but simple.
I enjoyed the meal from the very beginning. Franciacorta sparkling wine was quickly brought out with John Dori wrapped in pastry with a tomato cream sauce and two crisp basil leaves that would meet the approval of any Tempura master. Next came house-smoked duck folded with caponata and herbs on a bed of rucola. While the previous dish captured the essence of autumn in appearance, this dish's attention to detail highlighted tastes of the season. For instance, minimal use of fresh tomatoes in the caponata allowed the smokiness of the duck to show through and extra drizzles of olive oil around the plate deepened the taste just enough. While I was expecting pasta next, red snapper complimented by porcini mushroom arrived because this is a wine dinner and the day's fish paired better with white wine and the wine tour was following a proper sequence. Being in Japan the fish was naturally good but the mushrooms were a real treat as they are in-season and a cult food difficult to find fresh outside of Italy.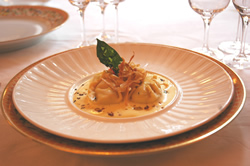 Next came the part I was most looking forward to - two fresh pasta dishes. Experiencing good fresh pasta can change the way even enthusiastic fans think about the Italian staple. Here it is as good as any pasta I had in Italy during the six months I lived there. The first one combined short all-wheat pasta with mixed fried white fish with bottarga and seasonal vegetables – hearty and sweet. The second was my favorite. Ravioli filled with potato, ricotta cheese, and black truffles. Biting into the dumpling released the elegant aromas of the truffles, an aroma that married perfectly with Etruschi's house red, a Tuscan Sangiovese with great purity (produced by Fattoria di Petroio, a famous Chianti producer). How good is all this? Will, we stopped talking and were just smiling. And that is when I looked up to give a little nod above and noticed bushy geraniums growing on the siding of the terrace above. Perfect! Moving on, the main dish was a classic pairing with the house red wine – tender veal with thin fried zucchini on top of ricotta spinach cream sauce and red peppers. By now if you are still eating the fresh baked bread (always a major temptation) just stop or you will not have room for dessert!
Still not noticing what time it is!
Dessert at Etruschi simply deserves its own review. Like Bernini or Michelangelo's work, the patisserie's creation was both unique and aesthetically perfect. We both opted for chocolate mousse that concealed the essence of ginger and orange and had all the complimentary décor to win a beauty contest. The exotic essence of the orange and ginger were fantastic with the orange blossomy Moscato di Pantelleria dessert wine.
Entering our fourth hour at the restaurant we sipped blended herb tea and tried our Italian out with the trilingual staff who we found to be engaging and professional. Around us the businessmen who were present when we arrived had just ordered another wine and the fountain continued to play its lovely tune with the sommelier in reserve uncorking bottles of wine. A pretty good tune in a great place that serves delicious authentic Italian food - its no wonder why many people celebrate their most important days here.
***** ***** ***** ***** *****
3-15-13 Minami Aoyama, Minato-ku, Tokyo 107-0062
Tel. 03-3470-7473
Fax. 03-3470-7478
URL. http://www.bellavita.co.jp/etruschi/index.html