Angelle (Kyoto), OIRAN Makeover Experience in Gion, Kyoto
Angelle (Kyoto), OIRAN Makeover Experience in Gion, Kyoto
Japanese Special Photo Studio Angelle is a photo studio where you can get your portfolio created, one with you looking at your very best in a beautiful Japanese traditional OIRAN's kimono. Being a little different from those of Maikos (apprentice geishas), the kimonos of OIRAN are more magnificent and sexy.
The OIRAN that Angelle proposes are decked out in expensive magnificent uchikake (a traditional long outer kimono) like that of a bride. Her hairstyle is not limited to the traditional ones, but comes in many different kinds, to which original creations of floral decorations are added. The result is nothing less than gorgeous. The makeup is also in vivid colors to enhance the costume and the photo shoot.
Every customer will be transformed into a fashion model or a movie star. Her photograph will be a dramatic one, the kind that no regular photo studio is capable of achieving because she will be installed in a three-dimensional set like that for a scene in a movie.
The makeup of a Maiko is one with a white foundation with red as the keynote. Its finish emphasizes elegance. In Kyoto, the Maiko culture is deep rooted, boasting a long history, so in order to transform into a Maiko, some restrictions apply. The photo shoot will be done with natural lighting in which the white foundation manifests itself in such a way that a soft natural harmonious effect is achieved in the photograph.
The transformation into a OIRAN at Angelle is not limited in form. Indeed the new kimono styles for the transformation are limitless in possibilities for realizing the wishes of the customers.
Let us turn you into a Oiran.
What to bring:
-Your own cosmetics. We provide the cosmetics for the Oiran experience but not for afterwards.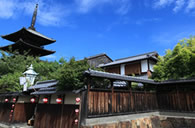 Splendid location in Gion, near to temples, shrines and historical buildings.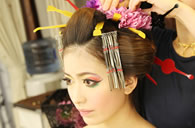 Experience a dramatic transformation through make-up and false eye-lashes.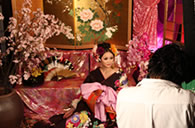 Stereoscopic photo-shoot, like the scene of a movie.
Angelle (Kyoto) Information
Address
22 Tsukimi-cho, Higashiyama-ku, Kyoto-shi 605-0825, Japan
Capacity
Groups of up to 3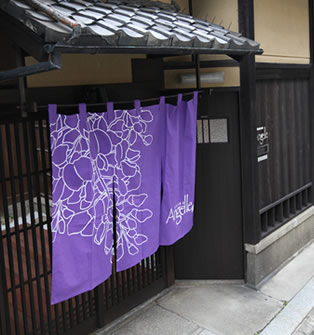 Traditional Entrance at Angelle