Kinosaki Hot Springs, Onsen and Sightseeing in Hyogo Prefecture
Sightseeing around Kinosaki Onsen, Hyogo Prefecture
Kinosaki is not only famous for hot springs, but also many other attractions, such as Japanese art museums Mugiwara-zaiku Densyoukan Museum and Bungeikan Museum, as well as the Hot Spring Temple (Onsenji). There are also many cultural events, traditional dining and fine products to experience in Kinosaki and the surrounding Tajima region.

Go a little away from the town, and you will be at Takenohama, a popular beach among Japanese people. It has one of the most beautiful sceneries in the San-in coastal area, where you can enjoy the unspoiled scenery with beautiful open fields, mountains, and streams. Kei-no-hama Beach is the closest beach from Kinosaki Onsen, with beautiful white sand and deep-green pine trees.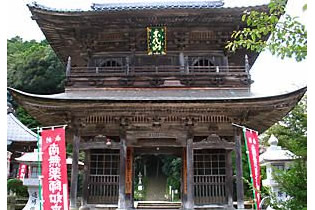 aThe Niomon (Gate of Deva) at Kinosaki Onsen Temple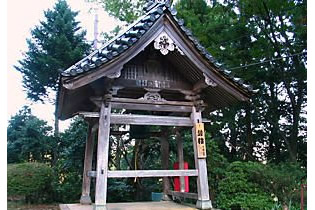 aThe Bell Tower at Kinosaki Onsen Temple
Places to Visit at Kinosaki Hot Springs
Onsen Temple (Onsenji) and the Ropeway Onsenji was built in 738 to commemorate the founding of Kinosaki onsen in memoru of Douchi-Shonin, who it is said to have prayed for 1000 days to usher the onsen waters forth from the rocks.
The ropeway is located at the base of Onsenji. One can ride the tram halfway to the top of the mountain, where the main building of the temple is located, or to the mountain peak, where an observation platform commands a fine view of Kinosaki, the Maruyama River and the Sea of Japan.
Kounotori Park (White Stork Park) Established in 165, Kounotori Park had bred over 100 of one of Japan's lost "national treasures": the oriental white stork. The park serves as a breeding and training center for the white storks before being released into the wild. Located 15 minutes by car from Toyooka's JR station, one can visit the 165 hectare park for free and learn abouyt the white stork and observe them while training in their 625 square meter area.
Mugiwara-zaiku Densyoukan Museum A handicraft truly unique to this area of Japan is called Mugiwarazaiku, a form of Japanese straw-working. The techniques used in this craft have been refined to their current level of mastery over a period of about 300 years.
Bungeikan Museum There is a small art and literature museum located along Bungeikan St. This museum was constructed in the style of a traditional Japanese house. Inside, one can fins works of poets, authors, artists, and other famous people reflecting on Kinosaki.
Tatsunokuchi Onsen is located on the hill to the south of the Tedori River. In 2009, Tatsunokuchi Onsen Soyu Satoyama no Yu (a hot springs facility) opened. There are many places for leisure activities in the area popular with families.
Kinosaki Marine World Located on the coast of the Sea of Japan, the marine park is only 10 minutes away by bus. Within the park, one can view dolphin, penguin, seal, and sea lion shows. There is also a fishing center within the park. From the marine park, one can get a great view of Ryugujo, a sea palace. The palace is situated on an outcrop of large rocks, about one kilometer out to sea.
More information on sightseeing at Kinosaki Onsen can be found here.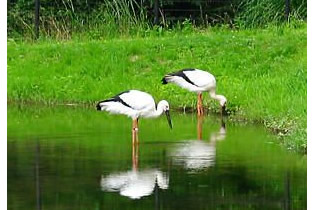 Kounotori Park (White Stork Park)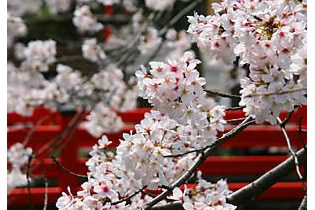 Cherry Blossoms at Kinosaki Onsen
Events / Festivals at Kinosaki Hot Springs
Cherry Blossom Viewing In late-March to mid-April the street between Kiyamachi-dori Street and Yunomoto-dori Street makes for fantastic cherry blossom viewing. The street is decorated with paper lanterns at night.
Kinosaki Autumn "Danjiri" Festival Held in mid-October, this is a festival of the Shisho Shrine to pray for prosperity of the hot spring. The gorgeous danjiri floats are the biggest in the Tajima region (the most northern region of Hyogo Prefecture).
Otani River Toro Nagashi (Lantern Floating) In late August, everyone is welcome to draw pictures and write wishes on toro (paper lanterns) for free, and release the lanters into the Otani River. This is a very Japanese event filled with end-of-summer melancholy feelings in Kinosaki.
More information on events at Kinosaki Onsen can be found here.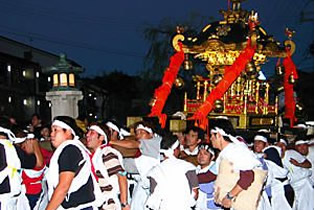 Revellers Carry Portable Shrines and Floats at the Kinosaki "Danjiri" Festival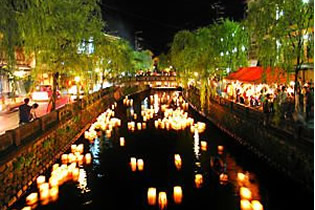 Lanterns Float Down the Otani River at the Lantern Floating Festival