Articles on Japan, Links & Reviews

Travel in Japan
Tips For Haneda Airport, Tokyo International Airport
Haneda Airport, also known as Tokyo International Airport, is Tokyo's main hub for domestic flights and for short, international flights to destinations such as Hong Kong, Shanghai and Seoul. If your travels take you through Tokyo International Airport, here are some tips for a smoother airport experience.
1. Getting to Haneda Airport by Taxi, Train or Bus
Taxi: Taxis to and from Tokyo Station will cost around 6,000 to 8,000 yen and take roughly 30 minutes.
• MK Taxi
www.tokyomk.com/eng

Train: From JR Tokyo Station take the JR Keihin-Tohoku Line to JR Hamamatsucho Station and transfer to the Tokyo Monorail for Haneda Airport (¥620 & 30 minutes). Check Jorudan for other routes and train times.

Keep in mind that even with recent improvements, many train stations still do not have elevators or escalators. Many Japanese people will make use of a baggage delivery service instead of lugging their bags on the trains. Sending your bags to the airport is easy as most convenience stores can arrange the service and there are counters in each terminal. Deliveries occur overnight so if you plan to use this service, be sure to pack at least a day in advance or upon arrival plan to be without your bags for the first night.
• JAL Airport Baggage Delivery Service
www.jal.co.jp/en/inter/service/takuhai/
Bus: If there is an airport bus stop close to where you are staying, the bus is the way to go. Traveling along the expressway in Tokyo, across Rainbow bridge with a view of Odaiba and Tokyo Bay make the ride worthwhile. The airport bus typically costs 900 yen (from Tokyo Station) and takes about as long as a taxi. Bus travel times vary according to traffic conditions, so try to give yourself some extra time just in case. Also, for Haneda-bound buses, reserved tickets are generally not sold. Try to arrive 10 to 15 minutes before departure in order to guarantee your seat. Discount kaisuken tickets with 100 to 200 yen savings are available at Odakyu Bus Counters.
• Airport Limousine
www.limousinebus.co.jp/global.html
2. Know your Terminal
Whether traveling by taxi, train or bus, you will need to know your terminal. This is especially important if you are like most domestic travelers, trying to arrive right before your flight with as little waiting time as possible. Bus drivers will ask you for your terminal prior to boarding as they separate the luggage according to the terminal.
Haneda Airport is comprised of two main terminals:
Terminal 1 for JAL Group, Skymark, & Star Flyer (SFJ) for the Kansai area;
Terminal 2 for ANA, Airdo (ADO), Skynet Asia Airlines (SNA), Star Flyer (SFJ) for North Kyusu.
If you do end up at the wrong terminal, don't worry as a free shuttle bus runs between terminals every 3 to 5 minutes.
• Haneda Airport
www.tokyo-airport-bldg.co.jp/en/
3. Electronic Tickets
Most airlines now issue electronic tickets. They are easy to use. Just print out your flight confirmation email and upon arrival at Haneda Airport find the check-in kiosks. All machines have "English" buttons with clear instructions. You will be asked to enter your confirmation number (~ 9 digits), then your reservation number (~ 4 digits) before selecting your seats.
JAL and ANA also offer premium seat upgrades for selected flights. If available, they are highly recommended as the prices can be as low as 1,000 yen for an upgrade to a larger, premium class seat.
• JAL JClass
www.jal.co.jp/en/inflight/dom/j/
4. Meeting places
Haneda Airport is often the place where groups meet to start their journeys. As with most of Tokyo, having an easy-to-find meeting place is essential. Fortunately, Haneda Airport features a number of clock towers on their departure floors. Terminal 1 has eight clock towers, numbered from 1 to 8 and Terminal 2 has four clock towers, numbered from 1 to 4. When planning to meet friends, just state the terminal and the number of the clock tower. i.e. Terminal 1, Clock Tower 2.
5. There's a Starbucks but bring your own reading material
Yes, there are Starbucks in both terminals. Two per terminal, one in the public area and one after the security check. There are other food & beverage establishments, a variety of gift shops, international ATMs, computer booths and internet access, children play areas, and even massage chairs (10 min for 200 yen). However, finding books or magazines in English is almost impossible so bring some from home.
• Starbucks Japan Locator
www.starbucks.co.jp/en/search/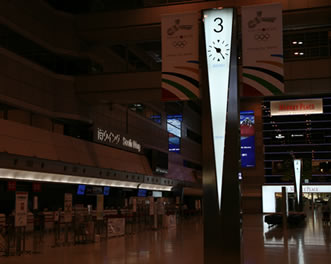 Clock Tower Meeting Points in Haneda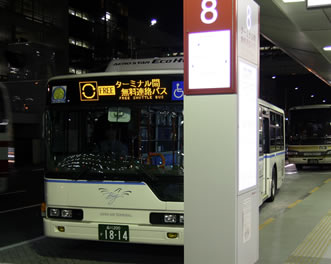 Free Shuttle Between Terminals

Getting to Haneda by Train:
Two train lines provide access to Haneda Airport: Tokyo Monorail & Keikyu Line


Tokyo Monorail departs from Hamamatsucho Station on the JR Yamanote Line and is generally the most convenient way to go for those in Tokyo.


The Keikyu Line departs from Keikyu Kamata Station and is usually convenient for those coming from Yokohama.

Check train access here: http://www.jorudan.co.jp/english/