Articles on Japan, Links & Reviews

Travel in Japan
Popular Day Trips from Tokyo - Kamakura
Kamakura, a historic seaside city, lies a mere 50 kilometers west of Tokyo but really is a world apart from the buzzing crowds and steel towers of Japan's largest city.
These summaries cannot do justice to the delights of a visit and to thoroughly enjoy the area it is probably better to stay overnight, or simply make more than one visit. There is plenty to see, and trying to pack everything into one day defeats the entire purpose of these charming neighborhoods.
Kamakura
Once the seat of power during the Kamakura Shogunate during the aptly named Kamakura Period (1185-1333) historical monuments, Buddhist temples, Shinto Shrines and traditional craft shops mingle amongst a beautiful landscape of forested mountains surrounding sandy beaches and the expanse of the Pacific Ocean beyond. Highlights for the visitor include:
The Great Buddha (Daibutsu)
Cast in 1252 it is the second largest bronze buddha in Japan and can be found at the Kotokuin temple grounds
http://www.kotoku-in.jp/index.html

The Five Great Zen Temples - The Kamakura Gozan
Built in the mountains these famous temples were the perfect training grounds for monks, and are remnants of the prosperity of Zen Buddhism in the Kamakura period.

Ranked in order:
1. Kenchoji Temple
2. Engakuji Temple
3. Jyufukuji Temple
4. Jochiji Temple
5. Jyomyoji Temple
Hasedera Temple
Most famous for its statue of the Kannon (goddess of mercy) which is said to be the largest wooden sculpture in Japan.
http://www.hasedera.jp/
Tsurugaoka Hachiman-gu Shrine
Often simply referred to as Hachimangu, this is Kanagawa's most important shrine. Said to have been founded over 1000 years ago the shrine is as famous for it's historic significance as for the design and beauty of the grounds on which it resides.
http://www.hachimangu.or.jp/ (Japanese only)
Dankazura
Leading up to Tsurugaoka Hachiman-gu Shrine is this public footpath located in the middle of Wakayama Oji Dori street. Dankazura is lined with Japan's famous sakurai cherry blossom trees creating an amazing canopy of blossoms or greenery as you approach the fabled shrine.
Hiking Trails
Some temples can be around 30-45 minutes on foot from a train station so you may want to take buses, or consider following a hiking trail. There are several beautiful trails that take you through the woods and hills including a tour focusing on temples, or a trail following famous areas in literary history. It takes about 60-90 minutes to walk these trails and good walking shoes are definitely a good idea.
http://guide.city.kamakura.kanagawa.jp/
Beaches
In addition to it's scenic forests and mountains, Kamakura, is also home to several fine sandy beaches popular with locals and visitors for surfing, swimming or just relaxing in the sun!
http://guide.city.kamakura.kanagawa.jp

Links of Interest
Japan National Tourism Organization
- www.jnto.go.jp/
Kamkura Citizen's Net
- www.kcn-net.org/
Kamakura City
- www.city.kamakura.kanagawa.jp/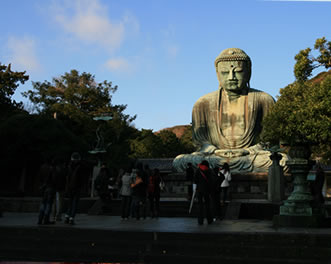 The Great Buddha (Daibutsu) in Kamakura

Getting to Kamakura:
The main attractions are concentrated around three train stations.

1. Kitakamakura Station
(the Zen temples);

2. Kamakura Station
(Hachimangu Shrine);

3. Hase Station
(the Great Buddha and Hasedera)


Both Kita-Kamakura and Kamakura stations can be reached on the JR Shonan Shinjuku Line or JR Yokosuka Line.


For Hase station you will need to take the Enoden Railway (Enoshima Dentetsu) from Kamakura station. From Shinjuku it will take just over an hour using rapid trains.


Another route is to come via Fujisawa station where the Enoden Railway (Enoshima Dentetsu) runs between Fujisawa and Kamakura station.


You can also get an Enoshima-Kamakura free-pass that allows unlimited use on the Enoden and Odakyu railways in the area. Departure points include Shinjuku, Machida, and Fujisawa.
www.odakyu.jp/english/freepass/

Check train access here: http://www.jorudan.co.jp/english/