Articles on Japan, Links & Reviews

Travel in Japan
Ippaku - A 36-Hour Travel Plan for Sapporo & Otaru
If you can, set aside lots of time to visit Hokkaido and its vast landscape and coastline, spectacular national parks, popular attractions (Ashikawa Zoo) and festivals (Sapporo Snow Festival), or to hit the slopes of Hokkaido's famous ski resorts (Niseko). But with only an ippaku (one night and not quite two days) in Sapporo, here is what we did.
Day 1:
7:00 AM ~
Caught the Airport Limousine from JR Kichijoji Station to Haneda Airport (¥1,200 yen/person & 45 minutes) and departed Haneda Airport for New Chitose Airport at 9:00 am (Roundtrip 33,000 Yen & 90 minutes).
Airport Limousine Information
Tips For Haneda Airport, Tokyo International Airport
11:00 AM
Caught the JR Airport Express to JR Sapporo Station (¥1,040 & 36 minutes). Cars 5 & 6 non-reserved and the train actually will take you all the way to Otaru, if need be. Reserved tickets are probably not necessary if you are boarding at Chitose (the first stop). At JR Sapporo Station, we picked up a city map from the tourist information center which also has a number of English brochures and maps not only for Sapporo but for other popular Hokkaido destinations.
Sapporo Tourist Association
12:00 PM
Walked from JR Sapporo Station to Susukino to find lunch (30 to 40 minute walk). Susukino, Sapporo's central shopping and entertainment district, features a variety of restaurants, department stores and enough hostess bars to challenge Shinjuku's Kabukicho.
Along the way, our walk took us past:
• Tokeidai (Clock Tower), constructed in 1878, its American-built clock, installed in 1881. The original clock is still telling time and may explain Sapporo's love affair with large, public clocks.
• Odori Koen (garden), roughly 1.5 km in length, divides Sapporo into north and south sections. The 147.2 meter high Sapporo TV Tower sits at the east end of the park offering panoramic views from the 90 meter high observation floor. At the west end is Shirokan Former Sapporo Court of Appeals, built in 1926.
12:45 PM
In the middle of Susukino lies Ramen Yokocho, home to a cluster of noodle shops offering Hokkaido-specialty miso ramen and seafood ramen. Usually an ideal late night meal, we decided to go well before the crowds and cross ramen off our food hit list (miso ramen ¥780, hotate scallop butter ramen ¥1,200).
1:30 PM
From Ramen Yokocho we walked back through Susukino to Odori Koen and cruised the park, pausing at times to people watch. Odori Koen is lined with benches, an ideal place to relax and enjoy the lawn and beautiful flower gardens nestled amidst the large buildings of the downtown. From Odori Koen we walked to Hokkaidocho Kyohonchosha the Former Hokkaido Government Office Building (free entrance).
• Former Hokkaido Government Office Building
The red bricked structure, built in 1888, is open for the public to wander through.
4:00 PM
Returned to JR Sapporo Station and its shopping complexes to find a cafe. We ended up on the restaurant floor of Stellar Place Center for ice tea and sweets (¥1,700).
* If you are new to Japan, it is always fun to explore the food floors of large department stores such as Daimaru. You'll find an amazing selection of appetizing and perhaps (to some Western palates) not so appetizing delicacies.
5:00 PM
Refreshed, we made our way up to Nishi Yonchome Streetcar Station (15 min walk) and took the street car to the Ropeway Iriguchi Station (¥170 & 15 min). The Streetcar Day Pass will save yen and can be purchased directly from the attendant. Board at the middle door and exit from the front door. Pay when you exit.
From the Ropeway Iriguchi Station an 8 minutes walk uphill will take you to Moiwa Ropeway Station. Tickets are ¥1,100 for the roundtrip to take in the spectacular view of the city in profile against the mountain backdrop. Arrive 45 minutes to an hour before sunset as shadows lengthen and the vista changes while the sun disappears beyond. Plan to stay for about an hour after sunset for the amazing city lights. When you first arrive at the look out put your name on the waiting list for the cafe, then head up to the look out platform for sunset, returning to the cafe to enjoy night views of the city.
• Moiwa Mountain is a 531-meter high mountain located in the southwest of Sapporo.
Mt. Moiwa Ropeway
7:30 PM
Returned to Nishi Yonchome Station (¥170 & 15 min) and walked to a row of Hokkaido-style izakaya located across from Ramen Yokocho. We choose a place called Hokkaido Dining Otaru Shokudo with a modern interior, tasty dishes and reasonable prices. The salmon sushi (4 pieces), crab & asparagus spring rolls (2 pieces), crab shumai Chinese dumplings (3 large pieces), deep-fried corn, salmon roe topped cucumbers and a couple of drinks made up a light yet delightful meal for two for less than ¥4,500 yen.
9:30 PM
On the way back to JR Sapporo Station, noticed a ferris wheel sitting on top of the Norbesa building. The short ride costs ¥600 per person (¥2,000 for four) and gives a close-up night view of the city. The ferris wheel is small but its 7th floor location gives a great view of the surrounding city.
• Norbesa is an entertainment complex in Susukino with restaurants, shops, bowling alleys, ping pong & billiard tables as well as the illuminated ferris wheel.
10:00 PM
Caught a taxi back to our hotel next to the JR Sapporo Station. (¥840, 8 minutes).
Accommodation
The Hotel Monterey Sapporo has spacious rooms and a quality breakfast buffet for around 14,000 yen per night for two. If you are on a tight budget, I'd recommend the Super Hotel in Susukino which offers amazing value with modern yet tiny rooms including a basic Japanese breakfast for less than 7,000 yen per night for two.
Hotel Monterey Sapporo
Super Hotel in Susukino
Alternative Stops
If you love beer, there's no better place to visit than the Sapporo Beer Museum & the Sapporo Beer Garden. Both are located a short bus or taxi ride (approximately 15 minutes) from JR Sapporo Station on the opposite side of the tracks from Odori Koen. From the south gate of JR Sapporo Station by the east entrance of Seibu Kan take the Chuo Bus Factory Line (Kan 88) and get off at Sapporo Beer Garden.

• Sapporo Beer Museum - Learn about the history of Sapporo Breweries and the beer industry in Japan (free admission).
Sapporo Beer Museum

• Sapporo Beer Garden (Sapporo Biergarten) - Enjoy the freshest draft beer and Genghis Khan-style fresh barbecued lamb.
Sapporo Beer Garden
Day 2
9:30 AM
Walked from JR Sapporo Station to the Sapporo Factory Shopping Mall (15 minute walk). Explored the old Sapporo Beer Factory, a heritage building stylishly converted into a modern shopping center while retaining key features from its past. A number of restaurants and cafes sit in a large, atrium-like center and offer a comfortable outdoor atmosphere in all seasons of the year.
• Sapporo Factory Shopping Mall has around 160 facilities spread among its 6 buildings.
Sapporo Factory Shopping Mall
11:15 AM
Returned to JR Sapporo Station and caught the Airport Express Line to JR Otaru Station (¥620, 30 minutes). From the station we walked down to Otaru Unga Canal (8 minutes) and strolled along the canal and around the old warehouse buildings.
• Otaru Unga Canal was completed in 1923 as a cargo-handling complex, but now is a popular tourist attraction and pleasant area for a leisurely stroll.
12:00 PM
Most warehouse buildings have been converted into restaurants. We chose a place called Uo Maru for lunch. The service was a bit slow, but the food delicious as we ordered the Kaisen Bara Chirashi Gozen (chopped sashimi, egg and cucumbers served on vinegar-rice) accompanied by a crab miso soup, Japanese pickles and a seafood chawan mushi for ¥1,680 and the Otaru Nigiri Gozen (assorted sushi 10 pieces) also served with a crab miso soup, pickles and a seafood chawan mushi for ¥1,880.
1:30 PM
Walked to Sakaimachi Dori which is like going back in time as the shopping street features a mixture of souvenir shops, glass-works shops, cafes and restaurants located in early 20th century structures.
A couple of museums can be found scattered among the shops. We stopped later in the afternoon at the LeTAO Cafe for tea and chocolate cake (¥1,800).
3:30 PM
For the final hour we walked southwest of the canal area where a number of beautiful buildings can be found. One, the Otaru Museum Annex, has a free lookout tower on its third floor with a view of the Otaru Unga Canal and harbor.
We did not have opportunity to take the ropeway up Mt. Tengu, but it is a highly recommended excursion with its view of the port of Otaru below. Try the luge track for a bit of fun.
Otaru Tenguyama Ropeway
4:00 PM
Returned to JR Otaru Station and caught the Airport Express to New Chitose Airport (¥1,710 & 70 minutes) and departed New Chitose Airport for Haneda Airport at 6:30 pm (000 Yen & 90 minutes).
8:45 PM ~
Caught the Airport Limousine from Haneda Airport back to JR Kichijoji Station (¥1,200 yen/person & 45 minutes).
Airport Limousine Information
Tips For Haneda Airport, Tokyo International Airport

Ippaku is a term used in Japanese to describe a one night, two day excursion.
* This article was written in May 2009.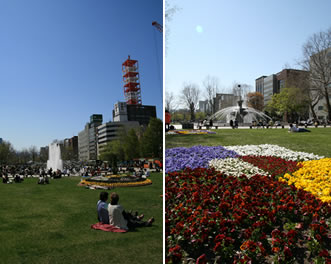 Odori Koen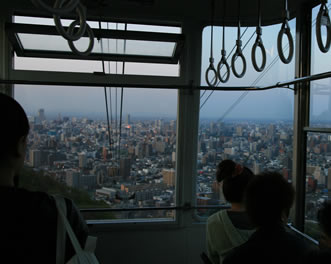 Mt. Moiwa Ropeway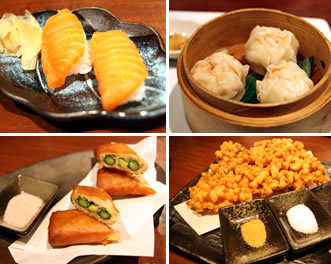 Dinner at Hokkaido Dining Otaru Shokudo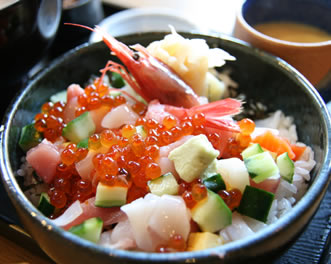 Kaisen Bara Chirashi Gozen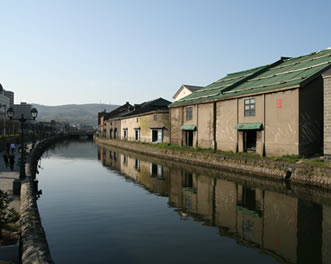 Otaru Unga Canal

Sapporo & Otaru Highlights:
Odori Koen (garden)
Mt. Moiwa Ropeway
Hokkaido Dining Otaru Shokudo
Sapporo Factory Shopping Mall
Otaru Unga Canal
Sakaimachi Dori